A LONG ... LONG TIME AGO
IN A STATE FAR ... FAR AWAY
A MAN NAMED GERRIT ROGERS...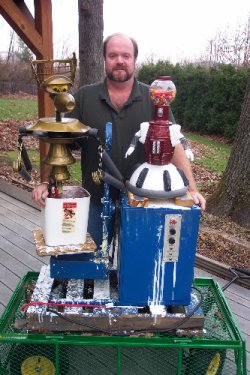 helped me build my first vacuform machine
I reciprocated by helping him get a
"Mighty Mo" roto-caster
Since then, he has helped me with all my bot parts
While receiving no credit what-so-ever
for his efforts.
Perhaps this was by design as there are countless people I know who refuse to be associated with me for numerous reasons...
However, recently he has agreed to be be acknowledged as my partner in crime.
While I remained content to build & peddle BotParts
Gerrit advanced to other fields
Some of works may be made available on this page in the not to distant future
In the meantime,
here are just a few of his innovations

The Barrel / Block Combo
What a time (and money) saver that was
Servo Shoulders with bolts already cast in
another priceless feature
Crow Shoulders perfectly cast from original Wallace Lamps
The Masked Modeler can now be seen
on his new Harley
coming soon to a highway near you